The deadliest and the biggest land mammals on the planet are often seen in a big dispute in their territories. You don't want to be near them when the brawl begins. But you can wonder which one would win in an elephant vs hippo fight.
Though the elephants are less aggressive than the hippopotamus, they have more chance of winning the fight. The size of an elephant is the principal reason why they win in most of these fights in the wild. No land animal can single-handedly take down an elephant.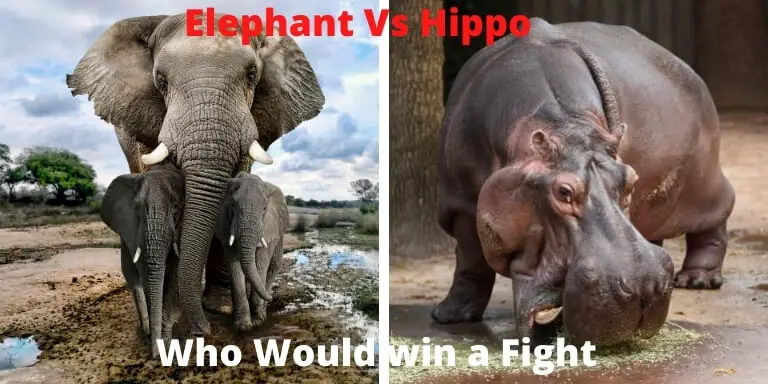 Elephant vs Hippopotamus – Comparison Chart
Comparison with
Elephants
Hippopotamuses
Scientific classification
Loxodonta
hippopotamus amphibius
Types
Three species of elephants are still existing on the planet. But many people mistake there to only be two types.

The three types are The African bush, The African savanna, and The Asian
Only two species are still existing on the planet. One is the common or the river hippopotamus.

The other is the smaller version of it named the pygmy hippopotamus.
Size
They are mammoth in size. The average monstrosity is so high that two 6 feet tall men couldn't climb one even if they climbed on one another.

They are about twice as much as they are in height.
A Hippopotamus can easily surpass the head of a 5 feet tall man.
They are also twice as much as they are in height. Sometimes even bigger.
Weight
Adult males of Asia have an astounding mass of around 2000 to 4500 kilograms. Females weigh somewhat less.

Adult African males weigh around 2268 to 6350 kilograms. Their female counterparts are about 2700 to 3600 kilograms heavy
Males have a mass of about 1800 kilograms and females are around 1400 kilograms heavy.
Body
Their massive bodies stand on four pillar-like feet. Big ears are like the wings of a giant bird.

The fat belly almost gives them the impression of a huge drum. Behind them hangs a rather small tail.

A very long trunk hangs as an extension between the upper lip and the nose. Two huge tusks are clearly visible on the massive face.
They have the impression of a giant barrel.

The River horses are bulky and gigantic in shape. Their heads are smaller compared to their bodies.

They have four strong and stuffed legs to carry themselves on. Behind them, a small tail is found.

Their tremendous jaws don't go without notice. Eyes are rather smaller and are situated on top of the head along with the nostrils.
Skin and hair
Have wrinkled and sensitive gray skin. They often wash their skin with water or mud or dust.

These act as a helping hand to protect skin from sun rays and parasites.

They do have hair on the body. However, calves have more hair than adults.
The monstrosities have the thickest skin on land.

Many people even consider these skin to be bulletproof.

They have zero hair. There is no sweat gland but an antibacterial red fluid is seen to ooze out the skin.
Mouth
Their mouths are constructed high above the ground. The upper lip and nose are extended as a trunk.
They have strong teeth to mash food inside the mouth.
They have the biggest jaw on land. They can open mouths at 180-degree angles.

The bite force is immense and can bite through adult crocodiles.
They also have gigantic teeth.
Dentition
They have 26 teeth. These include 2 upper incisors which are called tusks.

Asians have smaller tusks than Africans. Males have bigger tusks than females.
Their dentition includes incisors, molars, premolars, and canines. Incisor and canine teeth are formed in the shape of tusks.
But they don't grow as big as those of the elephants.
Trunk
A trunk is situated on their faces. It reaches to the ground and helps them to grab things.

There is small sensitive hair on the trunk As a result, it also acts as a sensory part of the body
No trunks.
Toes
Have 6 toes but not 6 nails.
The front feet have 5 nails and the back feet have 4 nails.
Have 4 toes on each foot.
Diet
Strictly vegetarian
Principally herbivore. But arguably omnivore.
Speed
Average speed 40 km/h
Average speed 48 km/h
Strength
The Elephants are the strongest when it comes to brute strength.
Hippos have a bite force of 2000 pounds per square inch.
Behavior
Peaceful creatures. However, females can show high aggression if the calf is in danger.

They form small groups. Females and calves make a separate group than the adult males. But still, males keep an observatory eye on their female counterparts by being not so distant.
The most aggressive mammal on earth. Surely to attack if provoked.
They are highly territorial beings. They live in large groups of 10 to 40.
Habitat
The elephants are found in the African rainforests and deserts.
Their Asian contemporaries are found in the rainforests and scrub forests.
The beasts are mainly African. Their population is found all throughout Africa.

They are seen in shallow lakes or rivers or small water bodies with ample vegetation nearby.
Population
Only approximately 400,000 African elephants are left in the wild.
According to national geographic, there are about 20,000 to 40,000 Asian species left in the world today.
Only about 150,000 common hippopotami are still roaming the shallow canals of Africa.

Their smaller versions are not so lucky even. There are only 2000 of them left in the forests of West Africa.
Lifespan
Average Africans live in the wild for about 70 years or so.
Average Asians have a lifespan of about 60 years or so.
The barrel-shaped giants can live up to 40 to 50 years out in the wild.
But in captivity, this age limit is increased.
Conservation status
Both African and Asian giants are listed as "Endangered" on the IUCN red list.
Common hippopotami are listed as "Vulnerable" on the IUCN red list.

Their pygmy cousins are listed as "Endangered" on the IUCN red list.
Predators
Lions are the only carnivores that are capable of taking down an adult elephant.

Two adult male lions could hunt down an elephant. It takes 6 to 7 females to get the job done.
Hippopotamuses aren't vulnerable to any predators.

Predators tend to avoid them while they can. Their immense size acts as an advantage for them.
Hippo vs Elephant Ancestry
Three distinct species of elephants are currently roaming the earth. Two of them are African and one of them is Asian. The most surprising fact is that the closest living relative of these tusked giants is the sirenians or sea-cows.
Among the prehistoric elephants, interspecies breeding was a common thing. As a result, many modern-day elephants are seen to have multiple genes in their DNAs. This process has profoundly shaped their history.
The wooly mammoth is one of the most famous ancestors of these modern giants.
Another 120,000 years old ancestor goes by the scientific name of Palaeoloxodon antiquus.
Two distinct species of hippopotamuses are living in the wild now. But their closest living cousins are the cetaceans or simply dolphins and whales. This was an odd discovery for the scientists as there was no linkage found among these very different animals. Yet their genes were found to be similar.
But some recent discoveries in the rock beds of Kenya have erased all the doubts. This discovery has bridged the gap between hippopotamuses and the cetaceans.
The French-Kenyan team to discover the fossil claims that the ancestor of the hippopotamus was the size of an overgrown sheep. Carbon dating has proved the fossil to date back to somewhat 28 million years. This discovery also proves these angry giants to not be related to pigs.
Elephant Types vs Hippo Types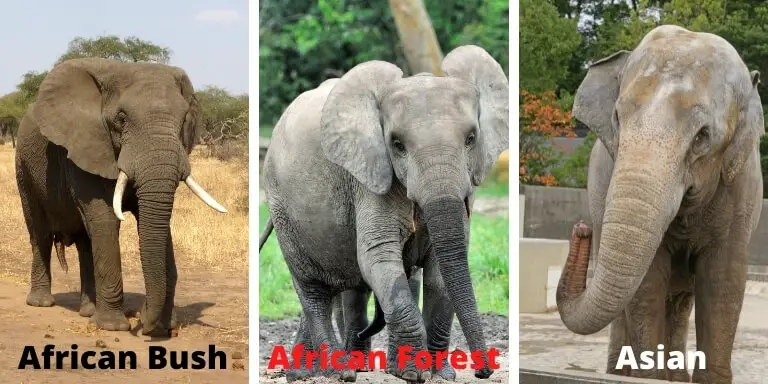 There are two different species of elephants in Africa and another distinct one in Asia. That makes three different types of them. These three are as follows:
African savannah or African bush (Scientific classification: Loxodonta africana)
African forest (Scientific classification: loxodonta cyclotis)
Asian (Scientific classification: Elephas maximus)
The African ones are both different by their sight and cultures. The Easterns are a bit smaller than the two of them.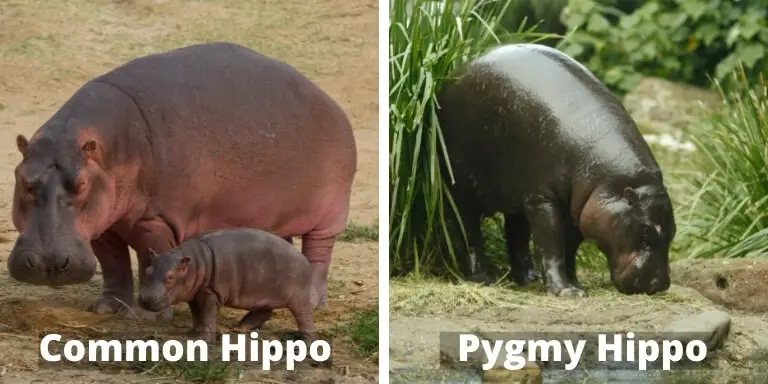 The hippo family is relatively small. There are only two species of them living on the planet right now. Their principal habitat is the rivers, canals, and swamps of great Sub-Saharan Africa.
The two types are as follows:
The common or the river hippopotamus (Scientific classification: hippopotamus amphibius)
The pygmy hippopotami (Scientific classification: choeropsis liberiensis)
Physique comparison
The elephants and the hippopotami have their physical differences. The water cows are barrel-shaped and the immense tuskers have their shoulders above the first-floor roofs.
Body
An elephant's body is made up of pure strength. Their first impression is their immense structure along with the extremely muscled trunk.
The ears also don't go without notice as they are one-sixth the size of the entire body. Its principal function is to keep the body cool. The giants that live in the equator areas have larger ears that act as a bigger heat dissipator. They have immense pillar-like feet. The unique structure of the feet allows them to move on uneven grounds.
Hippopotami give away the impression of overgrown water cows. They have strong stubby legs. They also have enormous mouths. The biggest jaw on land sits in there. The teeth are huge and can be used both as food grinding machines and as weapons. The small tail that hangs from the back is used to mark territories during excretion.
Size and weight
The adult African monstrosity as its shoulder high above the sky. Their height ranges from 9.8 to 13 feet. They can be up to 24 feet in length. Male elepahants weigh about 6000 kilograms and females weigh about 3000 kilograms.
Asian ones are a little less tall yet very monstrous. Their shoulders are about 6.6 to 11.5 feet high. Their body length ranges from 18 to 21 feet. The average female can be about 3465 kilograms heavy and the average male can be about 5221 kilograms heavy.
Hippopotami are about 5.5 feet tall. Their length ranges from 9 to 6 feet. Average adult males have a mass of 1800 kilograms. Average adult females have a mass of 1400 kilograms.
Color
The overall skin color of an elephant is grey. But the Asian ones are sometimes seen with freckled foreheads and trunks.
Hippopotamuses have slate-colored skin. However, when the antibacterial fluid oozes out their skin, it appears to be reddish-orange.
Skin and Hair
Asian Elephants have less wrinkled skin than their western cousins. Wrinkles help to keep the body cool. The thickness of it is about 1.5 inches. The thick skin and thin layer of fat under it help the enormous creature to survive cold weather conditions.
Hair is seen on the creature's body. Especially around the eye, on the forehead, and the trunk. Toddlers have more hair than adults.
The Hippos have visually hairless skin. The thickness of it is about 2 inches. Predators dislike tasting the thick skin.
Teeth
The tuskers have 12 molars and 12 premolars. 2 incisors are enormous and are called tusks. Males' tusks have a mass of about 50 to 79 kilograms and females' ones are about 18 to 20 kilograms heavy. These massive teeth can grow up to 6 feet long.
Common hippopotamuses have 4 incisors, 2 canines, 6 to 8 premolars, and 6 molars. Incisors and canines are used to demonstrate power. Their incisors can grow up to 1.2 feet. Canines grow out around a mind-blowing 1.5 feet.
Read: Hippo Teeth | How Many Teeth Does A Hippo Have?
Mouth
The nose and upper lip of the elephants are extended into a trunk. The trunk is a multi-function organ with 100,000 muscles simultaneously working to breathe, dust, feed, smell, drink, lift, communicate, defend, and sense. Many sensitive nerve endings with motor skills are situated at the finger-like projections at the end of the trunk.
Hippopotami have the biggest jaw on land with a massive 150 degrees gape. Hinges being back at the head allows them to open their mouths in such a manner.
Behavior
The full-grown mammoths are intelligent creatures. They often demonstrate behavior associated with higher intelligence such as mimicry, compassion, grief, self-awareness, etc.
Elephants are peace-loving and live in separate males and female groups. But males can be aggressive during musth and females can get aggressive while saving the child from danger. They stand tall and look toward the threat with their ears spread and heads raised high.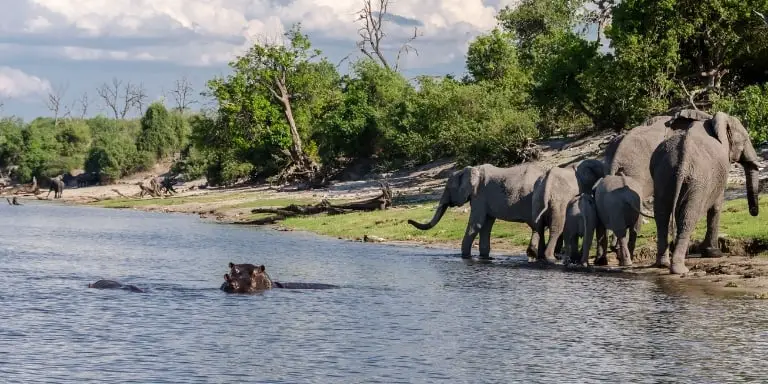 The common Hippopotamuses are territorial beings and super aggressive. Around 500 people die each year due to hippo attacks. The angry beasts are nocturnal and live in large groups of 20 or more. They start looking for food at night. As a result, most of the encounters take place after sunset.
Diet
The gigantic behemoths are herbivores and eat grasses, herbs, fruit, plants, and trees. Their daily diet is about 4 to 7% of their mass which is about 300 pounds of food every day. This food results in 150 kilograms of dung daily.
The beasts are crepuscular. This means they sleep during the day and are active at dawn and dusk.
Hippos are herbivores also and eat about 35 kilograms of vegetation every night. Their stomach acts as a large fermentation factory. Hippo poop can weigh about 400 pounds daily. However, these angry water animals can show carnivorous behavior at times.
Speed and Strength
The average adult elephant has a speed of 40 km/h. Their trunks are used to demonstrate sheer strength and uproot trees. They can carry up to 9000 kilograms. For this reason, they were used to carry heavy loads in the ancient world.
The average adult river horse can run up to 48 km/h. Their bite force is stronger than lions and crocs. Their bites create a pressure of 2000 pounds per square inch. Their teeth can squash a full-grown Nile crocodile.
Habitat
Elephants are found in Sub-Saharan Africa, rainforests in central and west Africa, and the deserts of Mali. The Asian ones are found in Nepal, India, and Southeast Asian scrub forests and rainforests.
Shallow water holes or swamps with enough vegetation on the nearby land is a dream home for the barrel-shaped giants. The common ones are found all over Sub-Saharan Africa and smaller ones are found in the rainforests of West Africa.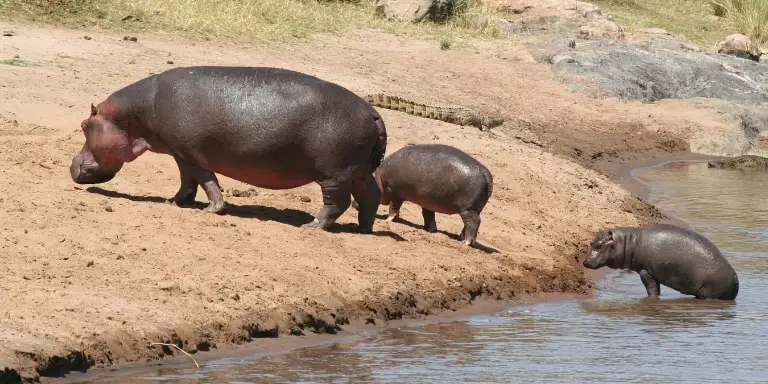 Population and reproduction
In the 1970s about 1.3 million monstrosities were roaming the lands of Africa. But now only 400,000 of them remain. Asian tusked titans have also decreased by about 50% during the last 75 years. Their population is about 200,000 to 400,000 now. These numbers are decreasing daily. Mothers breed a single calf after the gestation period of 18 to 22 months.
About 125,000 to 150,000 bulky-bodied individuals are still ruling the wilds. Zambia (40,000) & Tanzania (20,000 to 30,000) possess the largest populations.
Mother hippos breed a single calf after the gestation of 8 to 10 months.
Conservation status
Both African and Asian trunked giants are listed as "Endangered" on the IUCN red list.
The IUCN has listed the common hippos as vulnerable & pygmy hippos as endangered.
Lifespan
The average muscled monstrosity can live up to 70 years in the wild. That is the same as many humans. Their Eastern contemporaries can live up to 60 years in the wild.
Common hippopotamuses can live up to 40 to 50 years in the wild. However, their lifespan increases in captivity.
Predator
Meat eaters such as lions, hyenas, and crocs might try to attack the weaker mammoths or the babies. Lions are their biggest threats. However, due to their sheer size, a single lion is never enough. It takes a whole pack of them to take down the gigantic behemoth.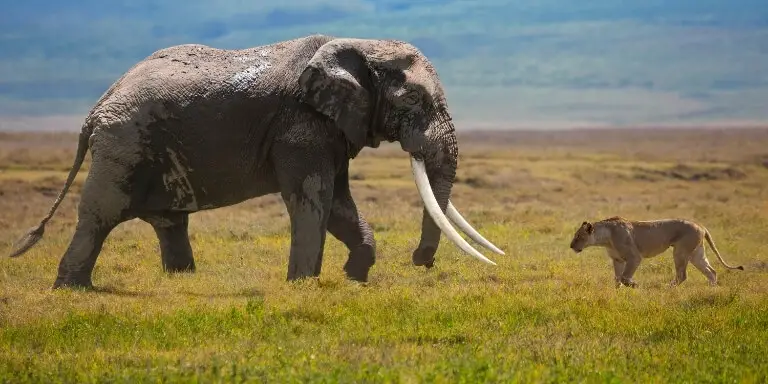 The bulky water cows have no potential predator threats in the wild. Sometimes Nile crocs and hyenas are seen to hunt younger calves.
However, both animals' populations are greatly threatened by humans.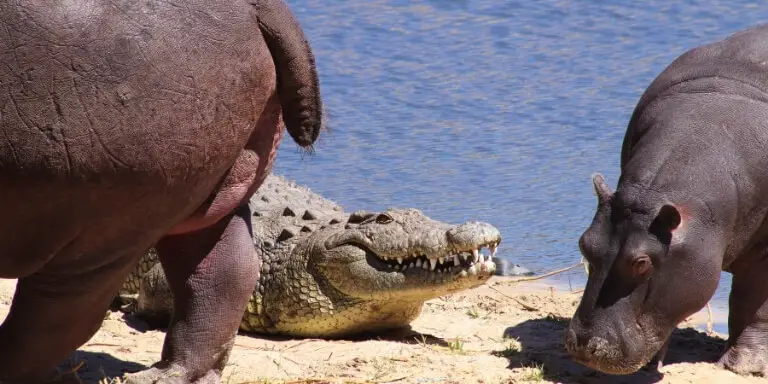 5 Fun facts about Elephants vs Hippos
A full-grown tusked elephant has the strength required to crush or toss an adult hippopotamus.
A hippo herd prefers to ignore an adult elephant even if they are invading their territory and food.
Hippopotamuses can't swim but elephants can.
Elephants are a lot smarter than the Hippos.
Elephants were kept as pets and used in royal dealings and wars. However, the hippopotami never submitted to human supremacy.
Conclusion
The biggest land mammal 'Elephant' is sure to win in an elephant vs hippo fight. They are the smarter ones. They are also the heavier ones. No land animal wants to intimidate the trunked giant. It is ironic that humans have conquered the submission of the elephants and yet not the hippopotamuses.
Related Articles: