One of the most fascinating creatures in Africa is the Hippopotamus. The name comes from Ancient Greek, meaning "river horse" and it is a large semi-aquatic mammal that lives primarily in sub-Saharan Africa.
A hippo can weigh up to 6000 pounds or 3200 kg which makes them one of the world's heaviest land mammals! Hippos can live for up to 40 years in the wild. They live much longer in captivity and can live to be 50 years old.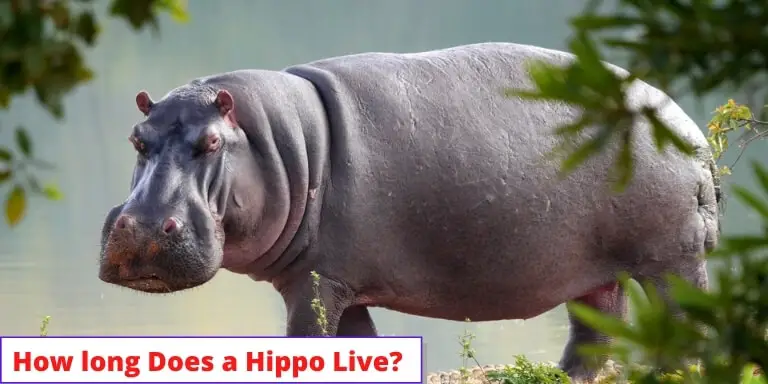 Introducing Hippo Life Cycle
Hippos are large, semi-aquatic mammals that live in Africa. They spend most of their time in or near water as they need to keep their body temperature below 40 degrees Celsius.
Besides being one of the world's largest living land animals, They also have a complex social structure and communicate using vocalizations such as grunts, snorts, and bellows.
What is more interesting about hippos is the fact that they give birth underwater!
The baby hippopotamus is placed underwater and must float to the ground to catch its very first breath. The mother needs to push the baby to the surface to breathe. A newborn calf holds its breath for about 40 seconds.
When the water becomes too dense for them, they sometimes rest on their moms' backs and swim underwater to drink.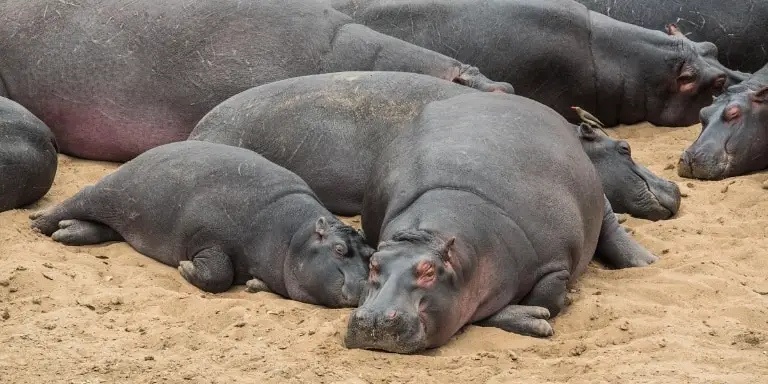 A hippo's life cycle is divided into many distinct and distinct phases, which are as follows:
Newborn Hippo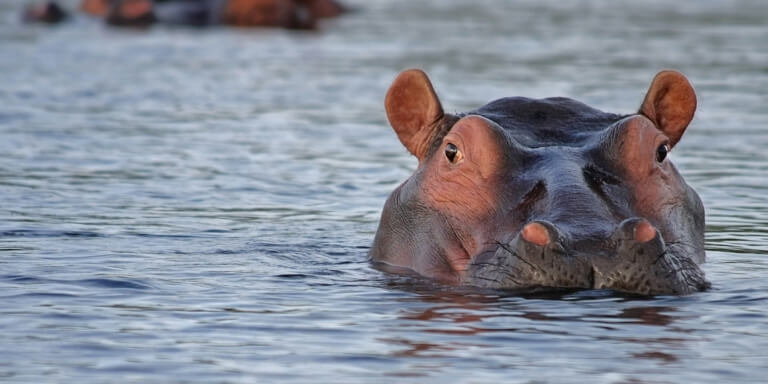 A newborn hippopotamus is born in the river with the genetic power of swimming. They are born weighing between 55 and 120 pounds and 127 cm (1.717 feet) long. The baby hippopotamus is called "calf".
The calf stops breastfeeding its mom and begins eating grass at the age of three weeks. When their moms are sleepy, calves frequently bend their moms' backs to rest.
Hippos adulthood
The female hippo will typically reach full maturity between the ages of five and six, while the male reaches full maturity around 6-7 years old.
In the age of around eight years, Hippo has abandoned its mom and is on his way to find a new home. Now it's time to find a partner. Boy hippos normally locate a group of hippos that has recently lost its leader and take over as the flock's leader. On the other hand, girls join their friend group.
Hippos aging
At the stage of 40-50, the Hippo starts to get weaker and eats less. It's about the moment of death during this stage.
Life cycle stages of Hippopotami
As an instance, body weight, behavior, habitat, threats, and conservation are part of Hippopotamuses life cycle stages. Here we have explained each step in detail.
Bodyweight
Adult Male hippopotamus weigh around 1500-1800 kg while adult female hippopotamus weighs around 1300-1500 kg, and they have a third eyelid, a transparent layer that protects their eyes and functions as glasses to enable them to see underwater. They come up for air each 6 to 7 minutes on average, and they can also survive under for up to 30 minutes.
Behavior
The common hippopotamus emerges from the water at night to graze on vegetation, often ascending steep banks and taking the same routes. They typically head to the river at sunrise to nap for the rest of the day. If it is not too warm or windy, they will couch on the rivers to bake sunlight.
Hippopotamuses are known for their aggressive and territorial behavior, often found in the wild. However, it is not always easy to tell if hippos are just being protective or actually want to begin a fight with another animal.
It can also be difficult to tell when or if they have been provoked by humans. When they become angrier, they 'yawn' evermore, displaying their large teeth as part of their danger show.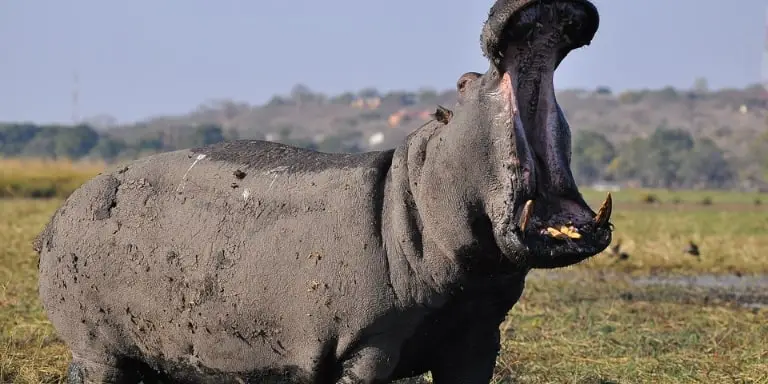 Habitat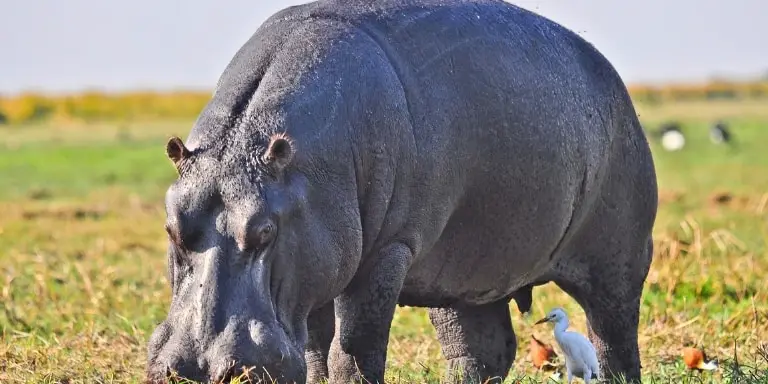 Maximum hippopotamuses prefer grasses with regular still water, which is not too dense and does not have several stones at the bottom of the pool. The pygmy hippopotamus lives in woods near swamps in West Africa. Hippos are gregarious creatures that congregate in groups known as bloats, pods, or sieges.
Hippos' schools typically have 10 to 30 members , including men and women, but some classes have almost as many as 200. Whatever the size, the school is usually run by an influential male.
Hippos are known to be violent and dangerous. Hippopotami have huge teeth and tusks, which they use to defend themselves from predators.
Threats and Conservation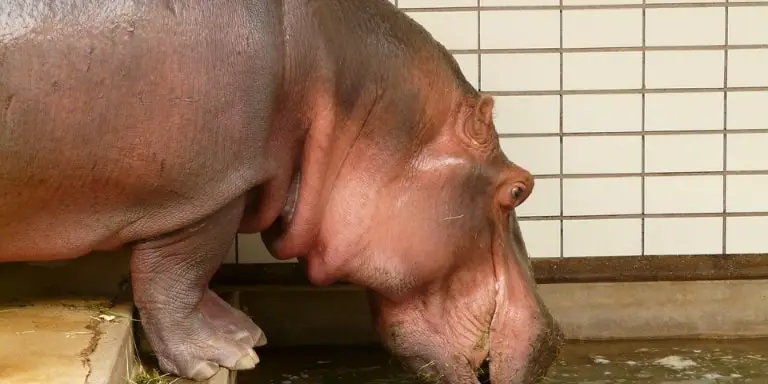 The standard or waterway hippopotamus is named Defenseless, which means if the numbers keep on falling, it might be very well recorded as Jeopardized. The dwarf hippopotamus is delegated Imperiled.
Frequently Asked Questions
How long until a hippo grows full?

Hippos keep rising in shape till they reach the age of 25. They can generally live in the wild for around 45 to 50 years, and that they have been rising for nearly half their existence. A hippo's life cycle includes many distinct and distinct phases.
How long does a hippo live?
Hippos can live for up to 40 years in the wild. They live much longer in captivity and can live to be 50 years old.
What kind of weather does Hippo live in?
Hippos live in weather of two seasons: arid and rainy. The rainy time lasts just three months, but it can bring more than eight feet of water. The weather in this atmosphere is ever more humid, but there is a brief soothing time during the arid period.
Conclusion
A hippopotamus is a type of mammal. It is armored since it survives both within the water as well as on the ground. Parent hippos can be fiercely protective of their young while keeping others at a safe distance.
Related Posts: