It is a hobby for many people to own exotic pets. Some people use these exotic animals to be an investment by putting them on display for visitors. The hippopotamus is also on their wish list. But is it legal to own a hippopotamus for regular people? That depends on which state you live in.
But if anyone somehow gets a permit to own one of the hippopotami, how much expense would he expect? How much does a hippo cost to be kept as a pet?
It can vary on many factors. But our research says that you can expect an expense of around $300,000 in total.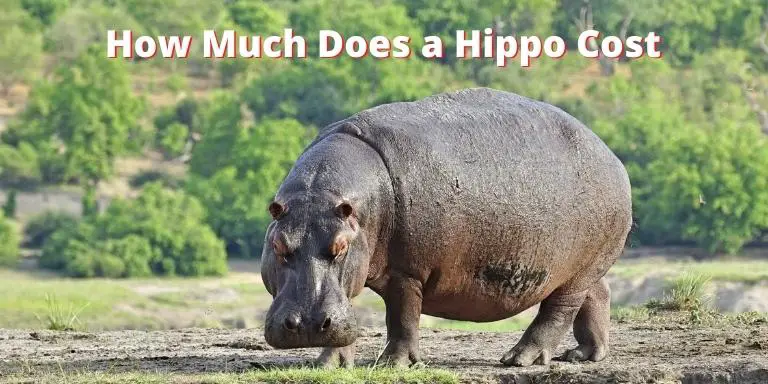 How Much Does a Hippo Cost?
Buying a hippo
Owning a hippopotamus can leave you financially unstable because a common hippo costs about $100,000 or more. And even if you had that much money to spare, you still need special permits, a huge enclosure that suits the animal's habitat, and years of experience regarding a lot of things.
Water hole price
Besides, the hippopotami need huge water holes to soak their bodies in. To buy a 20-acre lake, you need to have around $150,000 worth of stash in your pocket.
Land price
This giant needs space to move. Let's say it needs about an acre of land not to feel suffocated. In New York, you can get 1-acre land for about $13,000 to $15,000.
However, if you're looking for land to raise your pet in Florida, you should expect at least $6000 to $7000 per acre.
Similarly, in Mississippi, per acre of land would cost you about $3000 to $4000.
Feeding cost
Hippopotami need about 100 pounds of vegetation daily. Vegetables per pound range from 30 to 50 cents. Grass per square yard costs around $3 to $8. So the cost of feeding a hippopotamus can range up to around $19,000 per year.
Total cost
To sum up, the whole scenario, this entire process, from finding a hippo to finally owning it successfully for a year, could cost you about $300,000 to $350,000.
State Laws Regarding the Owning of Hippos
People are continuously buying new animals as pets. Some of the pets are wild and could cause damage to the owner and the neighborhood. Many accidents have occurred due to such pets. So after considering the situation, the state governments of the USA had decided to enforce laws to minimize having pets to some extent. This helps to discourage over-enthusiastic people to own whatever they like.
The hippopotamus is a wild animal that is not tamed. It is one of the most aggressive beasts out there. Every year almost 500 or more people are killed in hippo attacks in Africa. So if you want to own such an aggressive animal, you need to consider your safety, your family, and your neighbors.
Owning a hippopotamus isn't legal in many states. The reason is not very unclear. A wild African animal weighing over 3000 pounds, the 3rd largest animal with a mouth of 50 centimeters with a wide gape of 180 degrees, the hippopotamus is nothing to be toyed with.
Still, some states would allow the possession of this amazing animal. Oregon is the only state that would allow you to possess one of the hippos without any kind of permits or special orders.
However, states that would allow you to have a hippo as a pet only under a special permit are as follows,
Mississippi
Tennessee
Florida

From this list, Florida classifies the hippo as a class 1 threat and requires a very special permit that is pretty hard to get.
The list of states that wouldn't allow the presence of the hippo in a private household is the longest. It is as follows,
West Virginia
Ohio
Maine
Kentucky
Hawaii and
Georgia
Is a Hippo a good pet? 5 reasons why it isn't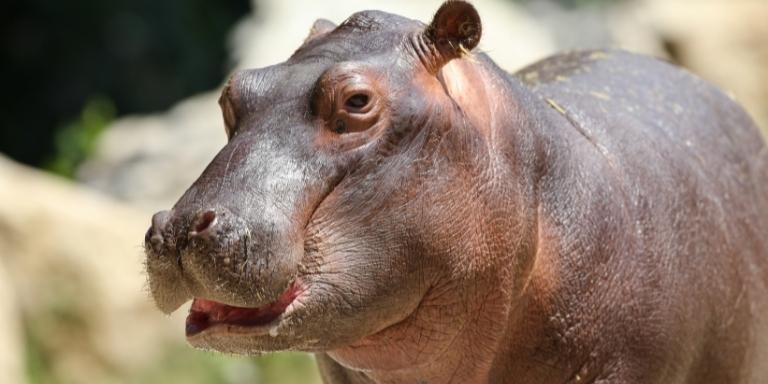 The hippopotamus is not a good pet. Having a hippo as a pet is hectic for the owner. There are several reasons why we are telling you this.
Hippos are not tamed
Hippopotami are wild beings. There is no way it would come to you as tamed. Even if you wanted to tame a hippo, that would require years of dedication, hard work, and maybe some accidental injuries from your side.
Because news of the river horse attacking humans is not very rare, African natives are terrified of the hippos. They would even prefer a lion encounter to a hippo.
The massive hippo can stomp your organs to a pulp, bite you in half, or gore you to death. So it is not wise to treat one of them like dogs or horses or any other domesticated ones.
Hippos are the third biggest mammal
Though calves look cuddly and cute, adults are no joke. Hippos can easily surpass the mass of 3000 pounds up to 6000 pounds. Their bodies are 10 to 16 feet long and about 5 feet high. So you can't expect them to sit with you on the couch while you watch the tv.
They need space
Hippos need a huge water hole to soak in. They also like a huge open space for moving and basking. So you can't confine the beast in your backyard with wooden boundaries.
Hippos have a massive appetite
Hippopotami are herbivorous. They need about 100 pounds of food every day—most of the time, they like to be under the water during the day. After sunset, they come out and forage for grass and vegetables. They can travel up to 6 miles to eat.
So managing such a massive amount of food every day is impossible for a single citizen in an ordinary neighborhood. In some zoos, a whole team is appointed to feed the hippopotamus daily. Also, their nutritions need to be checked regularly. This requires regular observation by a nutritionist.
It is very rare to come across a hippo selling shop
It is extremely rare for you to find a pet shop with a hippopotamus for sale. Some online shops might take orders and provide home delivery, but this is not as easy as it sounds.
Because there are laws, restrictions, and paperwork that follow the whole process; however, having a pet hippo is not for ordinary people. Only a handful of men can afford it.
Conclusion
Hippopotamuses are not good pets. But people are still asking how much does a hippo cost? The answer can blow one's mind. But this has not stopped people from different states in the USA from owning the hippo. It might not be a good domesticated animal. Yet it is good for visitors. A smart guy can run a unique business by owning one of the hippos.
Related Articles: