Hippos are one of those animals why we take our kids to a zoo. However, not everywhere you can see them. That's why we've made a shortlist about what zoos have hippos.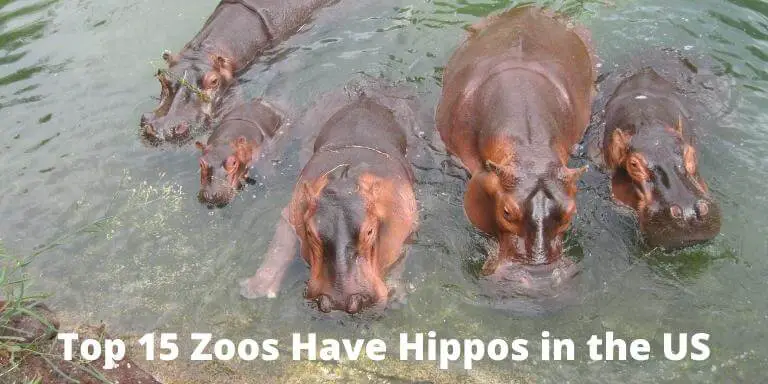 Top 15 Zoos Have Hippos in the US
The following list is about some prominent zoos that keep hippos. It'll help you to make a plan before an outing.
1. San Antonio Zoo
Location
Texas 78212, United States.
How many hippos are there
2 Hippos.
Opening time
9 AM
Closing time
5 PM
Ticket cost
24.99$ for adults (12+)
19.99$ for kids (3 to 11 years)
Website
sazoo.org
One of the best things about the San Antonio zoo is the view. The zoo will give you both the underwater and above viewpoint of the hippopotamus.
San Antonio Zoo keeps two female hippos named Uma and Timothy. Uma is the grandmother who turned 45, and Timothy is a cute 5 years old girl.
If you have kids under 3, you can take them there for free and enjoy the prettiest chemistry of grandmother and granddaughter. You'll be allowed to feed them and take selfies as you wish.
2. Dallas Zoo
Location
Texas 75203, United States.
How many hippos are there
2 Hippos. Mother and daughter.
Opening time
9 AM
Closing time
5 PM
Ticket cost
15$ for adults (12+)
12$ for kids (age of 5 to 11)
Website
www.dallaszoo.com
Dallas Zoo is known for offering underwater views of hippos. There, you'll get a large area for exploring. Also, when the trainer trains the hippos, you'll be allowed to see them.
In the recent past, Dallas Zoo succeeded in giving birth to a calf named Adanna. It's a girl. She was named after his dad Adhama. However, the 7 years old Adhama died because of severe illnesses; you can still enjoy the mother and daughter duo here.
3. Cincinnati Zoo
| | |
| --- | --- |
| Location | Ohio 45220, United States. |
| How many hippos are there | 2 Hippos. Mother Bibi (45), Baby Fiona (5). |
| Opening time | 9 AM |
| Closing time | 6 PM |
| Ticket cost | 10$ (For all ages) |
| Website | cincinnatizoo.org |
Cincinnati Zoo is another place where you can see a mother-daughter duo. Father Henry and mother Bibi, with their infant daughter Fiona, seem to have a happy family. However, Henry died in 2018. Yet, Baby Fiona is now the centerpiece of many. Both mother and daughter can be found splashing themselves all day in the Cincinnati Zoo.
This is the oldest Zoo in the Us. It has more than 1.5 thousand animals in the 6/5 acres of land. The zoo did a great job in their breeding strategy as they were the first to produce California lions. And their latest attraction is the baby hippo, Fiona, for which you can go and visit.
4. Saint Louis Zoo
Location
Saint Louis, Missouri.
How many hippos are there
3 hippos
Opening time
9 AM (winter hours)
9 AM (winter hours)
8 AM (summer hours)
Closing time
4 PM (winter hours)
5 PM (spring hours)
5 PM (summer hours)
Ticket cost
Free for all ages. However, a few attractions cost charges.
Website
www.stlzoo.org
In Saint Louis zoo, you can see 6000 or more pounds of hippos playing underwater. When they shove at the viewing glass for playing, it's a thrill to watch for both children and adults. Also, the Saint Louis zoo is an all-time favorite for visitors for its huge space and multiple viewpoints.
Whether the hippos are moving underwater or gathering at land, you'll be able to see them from every angle. This easy-to-see privilege makes this place crowded. Once you plan to go there, go earlier.
5. Toledo Zoo
Location
Ohio 43609, United States.
How many hippos are there
2 hippos.
Opening time
10 AM
Closing time
12 PM (Mon, Wed, Thu)
4 PM (Fri, Sat, Sun)
Tuesday: Closed.
Ticket cost
8.5$ Children (2-11)
10$ Adults (12-59)
8.5$ Seniors (60+)
Website
www.toledozoo.org
Toledo zoo is specific for hippos. Two of the best facts about this zoo are it has ample space and allows visitors to see hippos from multiple angles.
This zoo was the first to film the birth of a hippo underwater. Because of its unique exhibition styles, it is referred to as the most complete zoo in the US. So, if you're planning to visit hippopotamuses, Toledo Zoo is worth your consideration.
10 Other Zoos That Have Hippos
you can explore so many zoos. Here, we are mentioning the top 10 prominent zoos that have hippos in their arena.
Zoo
Number of Hippos
Viewpoint
Tickets fees
Toronto Zoo
3 hippos
Above water
20$
Houston Zoo
1 pygmy hippo
Above water
22.95$ (adults)
17.95$ (children)
Kansas City Zoo
A five years old hippo named Cairo.
Above water
13 to 16 USD.
Lincoln Park Zoo
1 pygmy hippo.
Both underwater and above-water viewpoints.
Free for all.
Philadelphia Zoo
2 hippos
Above water view.
23$ per person.
Zoo Miami
1 pygmy hippo.
Above water view.
22.95$ for adults (13+)
18.95$ for children (3-12)
San Diego Zoo
2, Mother and daughter
Underwater.
62$ for adults.
52$ for kids.
San Francisco Zoo
1 Nile hippo.
Above water
22$ for adults (12-64).
15$ for children (2-11).
16$ for seniors (65+).
Brookfield Zoo
2 female pygmy hippos.
Above water.
Adults: 17.75 USD.
Children: 12.50 USD.
Seniors: 12.50 USD.
Gulf Breeze Zoo
2 Nile hippos.
Above water
25 dollars for adults.
24 dollars for seniors.
20 dollars for children.
Final Words
Now, you're certainly familiar with what zoos have hippos. No wonder you have a busy schedule; you can still make your way to visit the second large land animal on earth.
Read More: