Seeing the immense presence of tiger illustrations in Japanese art, you may think tigers are native to Japan. But actually, they are not. Despite not being native to the country, why tigers are in Japanese art would be a matter of discussion.
Researchers have claimed that there are no tigers in Japan. However, you will get the touch of the tiger's existence in different Japanese cultures.
To get the ideal story of tigers in Japan, read our content. After finishing it, you'll learn about the historical journey of these animals in the Japanese wilderness.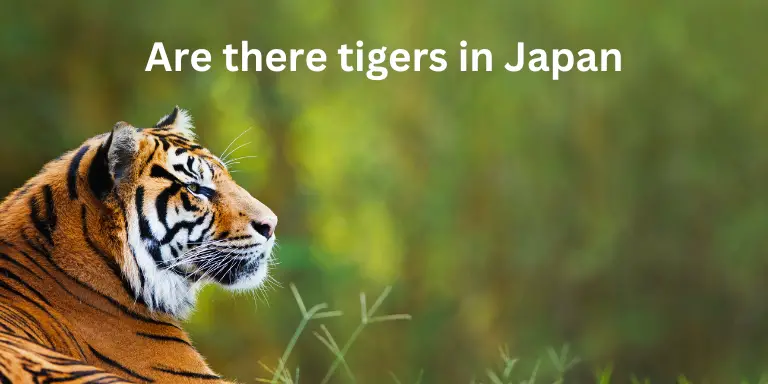 Are there tigers in Japan?
After all the evidence and consequences, it is still a common query of people if tigers live in Japan. The answer is no; there are no tigers in Japan. According to the fossil record, It is believed that the subspecies of tigers lived in Japan once upon a time. These furious animals were seen in the Japanese wild almost a thousand years ago. But you'll find no tigers in Japan.
Tigers are different based on their habits, nature, and characters. They are found in tropical, southern, and dry forests worldwide. Some of them like to live in cold areas of northern Asian jungles. Yet, despite all the diversity in Japanese wildlife, there are no tigers.
Mainly there are three reasons for the extinction of tigers from Japan:
Elevation of sea level
Tiger poaching
Reduction of Rusa deer, which was the main food of tigers.
For all these reasons, tigers could not settle their colonies properly in this area and started to move toward Southern Asia.
Have tigers ever lived in Japan
Nearly 12000 years ago, tigers started to live in Japan. It was when Japan was still connected to the continent's eastern coast. These regions are now known as Korea and China.
Sakhalin in Russia connected Korea. Through this place, Russian tigers made their arrival in the Japanese wild. People say Wanhsien tigers were the only species ever seen in Japan.
At the same time, it is also believed that tigers arrived in Japan from other Asian continents as well. Researchers have claimed that tigers lived in this country for nearly a hundred years without hassle.
What happened to tigers in japan
When the sea level of the western pacific ocean rose, tigers started to lose their habitats in Japan and move their colony to southeast Asia. Before that, their main hunt, Rusa deer, started to become extinct. That put them into a food crisis. So, it is assumed that food insufficiency is also why tigers migrated from Japan.
A few Japanese people believe that their ancestors started to hunt tigers and that caused tigers to go extinct in this region. But the rising sea level was the main reason why tigers left the country.
Why are tigers in Japanese art
You may wonder why tigers are in Japanese art if there are none in this region. We gave it a thought too. And what we discovered will surprise you as it'll give you a realistic answer.
Japan had tigers in ancient times. Since the extinction of those big cats in Japan, Japanese people have never seen a tiger in their land. All they did was created a fantasy world of tigers in their mind. They started to imagine what a tiger might look like and sketched those animals based on their imagination. That's why when you see a tiger illustration in Japanese art, you'll find it a bit different. All you can find are big cats with stripes in Japanese art.
Another thing is many Asian countries, including China surround Japan. China has a rich culture of tigers, and many Asian countries have habitats of tigers. This might surely affect Japanese culture. These are the two reasons why you see tigers in Japanese art.
Are there big cats in Japan
There are no big cats in Japan. Once there was nearly 500kg of big cats were seen in Japan. This species of the tiger was called the Wanhsien tiger. This was the only tiger seen in Japan.
Wanshein tigers were big in size. Chronologists say it was the giant cat that ever roamed in Asia. Along with their evolution, those tigers went smaller and faster.
FAQs
When did tigers go extinct in Japan?
It is believed that tigers went extinct nearly 12000 years ago in Japan. Habitat destruction, hunting, water rise, and food loss are why tigers left this region. Some admit that human conflict causes tigers to go instinct in Japan, while others believe the country can't sustain the large appetite of tigers. But scientists say water rise was the primary reason why tigers left Japan.
Why don't Tigers Live in Japan?
When the ice started to melt, and the water level began to rise, tigers left their colonies and settled in Southeast Asia. They never returned to Japan. Also, tiger's main food, Rusa deer, was lost because of diseases.
Are Tigers Scared in Japan?
The Japanese environment is much more suitable for Tigers. Though the country faces earthquakes every so often, this can't be an issue for tigers to fear. So, usually, tigers aren't scared in Japan. The main reason tigers don't live in Japan is that the country is an island, and tigers have less food to fill their appetite.
Conclusion
As you have finished the article, you certainly have a clear idea that Japan has no tigers. But there are myths, stories, and fossils of tigers in Japan. In fact, Japanese culture sustains a large portion of tigers in their arts.
Reference
Koreblat, J. (2008). Tigers in Japanese Art. https://www.smithsonianmag.com/arts-culture/tigers-in-japanese-art-180941036/
Discovery. (2022). The Myth of the Japanese Tiger. https://www.discoveryuk.com/big-cats/the-myth-of-the-japanese-tiger/
Wikipedia. 2022. Panthera tigris acutidens. https://en.wikipedia.org/wiki/Panthera_tigris_acutidens.
You might also be interested in: